Pick Your Perfect Diet and Weight-loss Plan
Have you been affected by the Quarantine 15? You know, that extra weight that has crept on you over the last few months.
Sooner or later, this quarantine will end and you'll be heading out the door again—and you're going to want to emerge from your cocoon like a beautiful butterfly.
So what can you do if you see the numbers on the scale going up and up and up? No worries!
I have a way to help!
Not all diets are created equal... and not all plans work for every person. Which is why my team and I have developed a completely free guide to help you pick the perfect plan for you. 
In the guide, I'll break down my three pillars for healthy weight loss; fasting, bone broth and collagen, and anti-inflammatory foods and I'll teach you how to use the Triple Punch Method for optimal results.
Plus, you'll discover three plans that will put you on the path towards a healthier life, and get you back to feeling like yourself again. 

I've also provided a few easy, go-to recipes to assist you along your journey.
I've helped thousands of people lose weight take advantage of the benefits of bone broth, collagen and fasting. And when you develop these same healthy habits, you too will experience the amazing health benefits and jaw-dropping results.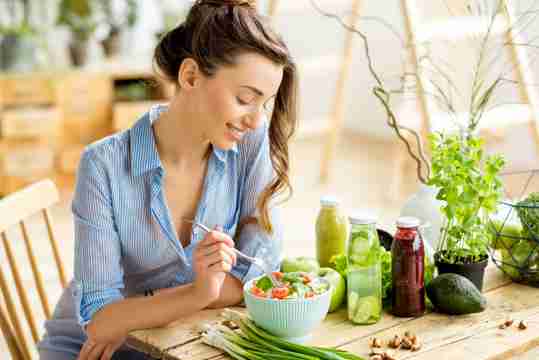 My Triple Punch Method
Bone Broth & Collagen
Intermittent Fasting
Anti-Inflammatory Foods
Why bone broth and collagen?
Help with weight loss
Form lean muscle mass
Beautify your skin
Detoxify your body
Ease digestive issues
Heal the gut
Heal joints
For weight loss
Bone broth is anti-inflammatory. When you heal that inflammation with nutrients like those concentrated in bone broth—including anti-inflammatory proline, glycine, and arginine—your weight starts to fall off.
Bone broth fills you up without adding pounds. Bone broth and bone-broth soups are rich, complex, hearty, and soul-satisfying. Bone broth comes loaded with amino acids and minerals like magnesium and phosphorus, as well as healthy fatty acids and iron from the bone marrow, it feeds your body deep nutrition that keeps hunger at bay for hours. It's nearly carb-free, and has only a few calories.
For beautiful skin
Bone broth is loaded with the building blocks of collagen, the structural protein that makes your skin strong and smooth and is rich in hyaluronic acid, an ingredient of many high-end wrinkle creams. As a result, it erases wrinkles and takes years off your face.
For detoxification
The amino acids glycine and proline in bone broth and collagen aid your liver in removing toxins from your body. In addition, glycine is a building block of glutathione, one of the body's most powerful detoxifying agents.
For digestion
Bone broth and collagen also help your digestive system by battling problems like —constipation, diarrhea, and gas. The gelatin and other nutrients in bone broth help to heal the gut, curing digestive problems and facilitate weight loss. 
For a healthy gut
Healing your gut is the key to fast weight loss and a healthier immune system. These days, we know that weight gain and many age-related diseases start with chronic inflammation—and this inflammation starts in your gut. More specifically, it starts in your gut's microbiome, an ecosystem containing trillions of "gut bugs" that play a crucial role in everything from your metabolism to your immune function.
Bone broth aids digestion. Bone broth is hydrophilic—it attracts and holds liquids like digestive juices, helping you digest food more efficiently. Bone broth gives you a generous supply of glucosamine, chondroitin, and other glycosaminoglycans (GAGs) that help heal your joints. GAGs also help your body lay down needed collagen. In addition, hyaluronic acid helps to lubricate your joints, keeping them healthy and pain-free.
Why Intermittent Fasting?
Studies show that participants who intermittent fast see a greater reduction in fasting insulin as well as insulin resistance. This is important because insulin is a fat-storing hormone. In order to burn fat and keep it off your insulin levels need to remain low, and your cells need to be able to respond efficiently to insulin when it is released.
Intermittent fasting is my secret weapon when it comes to keeping insulin low and in turn allowing glucose to be burned as energy instead of stored as fat. So intermittent fasting burns belly fat AND helps keep it off.
In addition, fasting rids your body of toxins which gives your metabolism a boost and helps you look and feel healthier. It also results in your body releasing a natural anti-inflammatory, and we know what kind of chaos inflammation unleashes in our body. And it increases your HGH (Human Growth Hormone) levels which is responsible for helping create lean muscle, burn fat, and supports healthy skin.
There are two very effective ways to intermittent fast and I have a plan that incorporates each one. One is to eat normally 5 days a week and fast for 2 days (between 24 and 36 hours). Another is to eat all your meals within a 7 to 8 hour window and fast the other 16 to 17 hours.
Anti-Inflammatory Foods
Healthy eating means eating a variety of foods that give you the macro and micro nutrients you need to maintain your body, feel good, and have energy. You need clean, healthy macro nutrients (protein, carbohydrates, and fats) as well as a variety of micro-nutrients (vitamins and minerals) in order to supply your body with the nutrition it needs to function optimally.
Your brain, gut, and immune system all depend on the proper intake of healthy nutrition and eating an antioxidant-rich diet filled with lots of colorful vegetables, clean protein, and healthy fats is a must.
To take the guess work out of what to eat each one of my plans gives list of Yes foods and No foods so you know exactly what to eat and what to remove from your diet. Every Yes food on my plans will help optimize your digestion, rev up your metabolism, supply you with much-needed nutrients, reduce your inflammation, lower your blood sugar, and even generate more beautiful skin.
Get the guide you need to emerge from quarantine healthier and more beautiful than ever.

Creating real change in your life can be difficult when you don't have the right tools on your side. Downloading the Perfect Plan guide is the first step to the change you want to see.
In this FREE guide, I give you three plans that will help you make the right changes. Don't put it off getting started any longer… download my guide to finding the perfect plan that will have those quarantine pounds falling off.