Chocolate Collagen Fiber Bars
Daily dose of fiber
For decades, nutritionists have told us that eating more fiber helps you lose weight and keeps you lean. It's true, those who get more fiber in their diets have a healthier body weight, less fat, and a better body mass index (BMI), even after adjusting for other factors. But, why exactly does eating fiber keep you healthy? Like so many other health issues, it all comes back to your gut.
Healthy gut 
Getting the right amount of fiber to feed the good bacteria can help create a healthier gut. The health of your gut affects everything from your immune system to your moods. Poor gut health leads to inflammation, and pretty much every disease on the planet including obesity. To improve the health of your gut, you need to get enough fiber every day. In general, women should get at least 25-30 grams of fiber daily, while men should get at least 30-38.
The best kind of fiber
This rich, decadent bar gives you an impressive 17 grams of fiber. And it's the best kind of fiber: natural, soluble, prebiotic fiber that helps your body absorb key minerals, keeps your digestive system running smoothly, enhances your immune function, and makes your gut microbiome glow. This bar is so satisfying that it keeps cravings away for hours so you stay focused. Maybe best of all, it is collagen-rich for beautiful skin!
High in Fiber for a Healthy Gut
A Fiber Bar Like No Other
Getting enough fiber can help you:
Reduce the risk of Type 2 diabetes
Ward off some types of cancer
Improve blood cholesterol
Keep blood pressure in check
So if you want to look and feel your absolute best, eat your fiber!
12 creamy coconut filled bars covered with rich dark chocolate come in every box!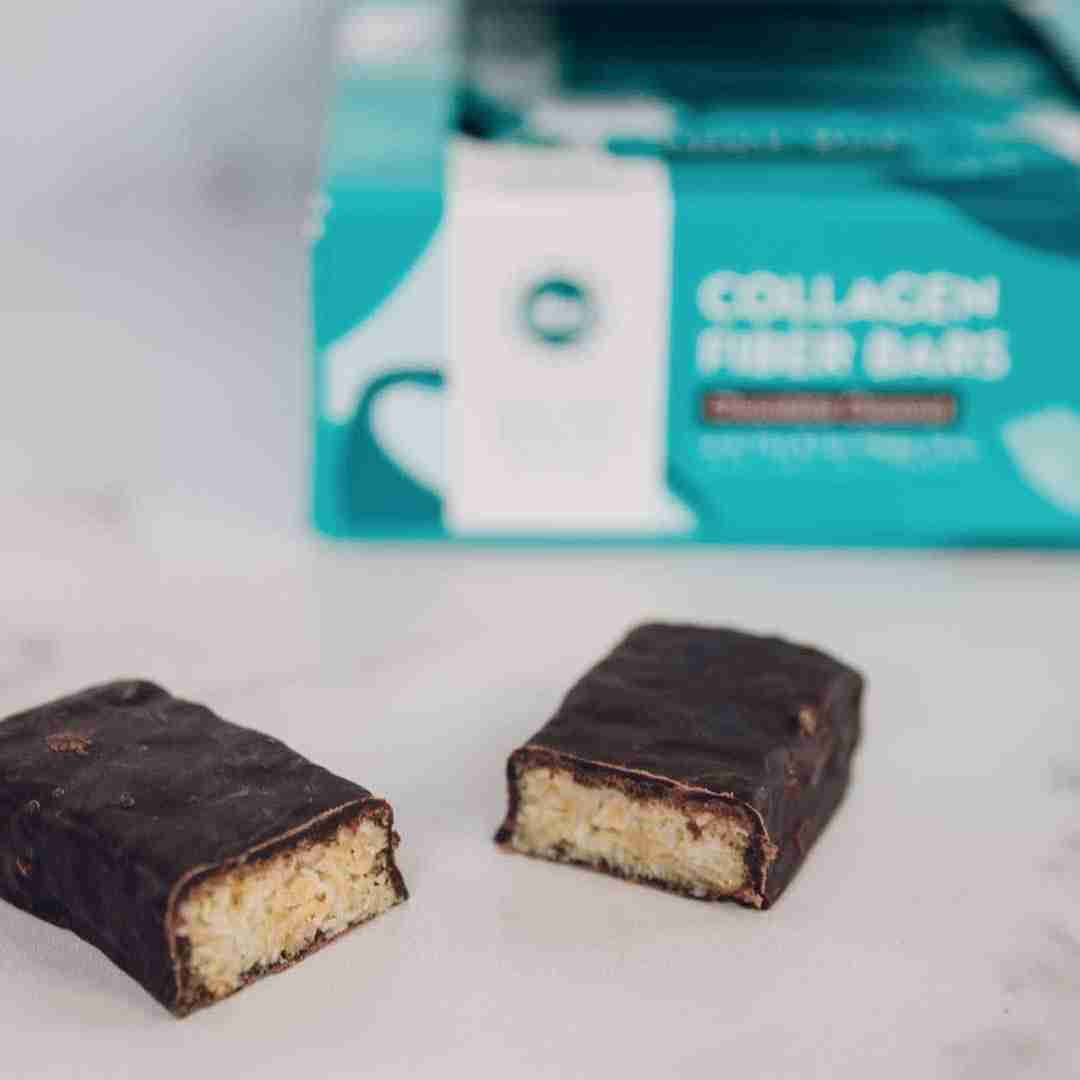 "Fabulous!
These are AWESOME! They taste pretty close to a Mounds candy bar, so it is hard to believe they only have 2G sugar....these are fabulous - delicious and chewy (but I didn't think they were too dry)."
"Best bar ever! Don't miss out! I ordered these bars for my husband who really misses sweets. Wow! They are so decadent. Not only are they delicious, but also very filling. These will be our new snack to take to the golf course. You won't be disappointed!"
Rich in Collagen for Beautiful Skin
Collagen is a strong protein naturally produced by your body. It's mainly synthesized from two amino acids (the smallest units of protein)–glycine and proline. And it's the major component of connective tissue as well as your hair, skin, and nails. In fact, collagen makes up approximately 33% of the total protein in your body, and it accounts for roughly 75% of the dry weight of your skin.
Needless to say, collagen is an essential protein that plays a vital role in your health as well as your appearance.
That's why collagen plays such an important role in these delicious bars. It's truly the hidden gem in our bodies. And because the collagen in these bars is sourced from grass-fed beef... it's simply the purest, best choice for your collagen supplement.