Check out our NEW & IMPROVED Cleanse Kit!
I've been reading your reviews, Facebook posts, and emails and I've used this feedback to reformulate my Cleanse and Reset kit.
My new and IMPROVED version is now even better!
First, I've changed the meals you'll get.  A lot of you mentioned it would be nice to have something warm in place of another smoothie so I added an additional cup of bone broth and removed one of the smoothies. So each day of the cleanse consists of:


3 Lemon Sips
1 Super Chocolate Smoothie -OR- 1 Super Vanilla Smoothie with Whey + Collagen
1 Bone Broth
1 Super Berry Collagen Smoothie
1 Lemon Chicken Soup
Second, I've improved my original Green Smoothie. It still has detoxifying greens and a hint of sweetness from berries but now you get to choose whether you want it in chocolate or vanilla. And, I've added whey protein isolate to the hydrolyzed collagen for an improved amino acid and antioxidant profile. And, the second Green Smoothie is now replaced with a warm cup of bone broth for lunch.
Then last but not least, are the improved Lemon Sips. I supercharged my Lemon Sips with a new melon concentrate called Dimpless™. This all-natural extract has been clinically shown to smooth away cellulite by shrinking fat cells hiding just below the skin. 

I know your biggest question is....



Why Did You Add Whey Isolate to the Super Green Smoothie?
If you know me, you know I've never been a big fan of dairy — which is where whey comes from. I personally can't tolerate most dairy foods, and neither can many of my patients. But I recently discovered whey protein isolate, which has all the advantages of whey, without any of the disadvantages.
Whey protein isolate undergoes a strict purification process, which removes all the lactose — so it's 100% safe for people who may have lactose intolerance. I added it to my Super Chocolate and Super Vanilla Smoothies because it's full of rich dairy protein, but has none of the fat.
Whey protein isolate is a nutritional powerhouse that builds lean muscle, boosts the immune system, and offers added support for slimming down and nourishing your gut. So now you can see why I've added it to my Super Chocolate and Super Vanilla Smoothies. 
What's the difference between lactose intolerance and dairy allergies? Lactose intolerance is when your body can't digest the sugar (lactose) in dairy products due to a lack of an enzyme called lactase. Not being able to digest lactose can cause symptoms like gas, bloating, diarrhea, nausea or stomach cramps. Dairy allergies can be more severe. Dairy allergies can cause your immune system to trigger a mild-to-severe reaction if milk or dairy is consumed, and that reaction can affect more than just your stomach. Many people suffer from lactose intolerance, while dairy allergies are much less common. Rest assured, the whey protein isolate added to my Cleanse & Reset WILL NOT negatively affect people with any sort of lactose intolerance.
This revitalizing Cleanse & Reset Kit contains everything you need for each day of your cleanse.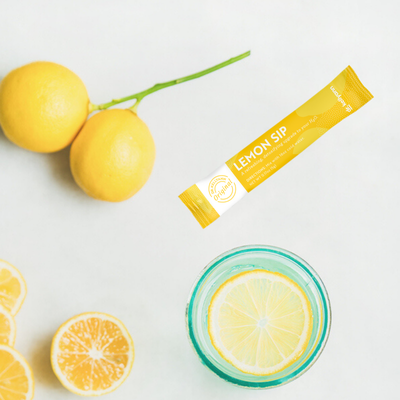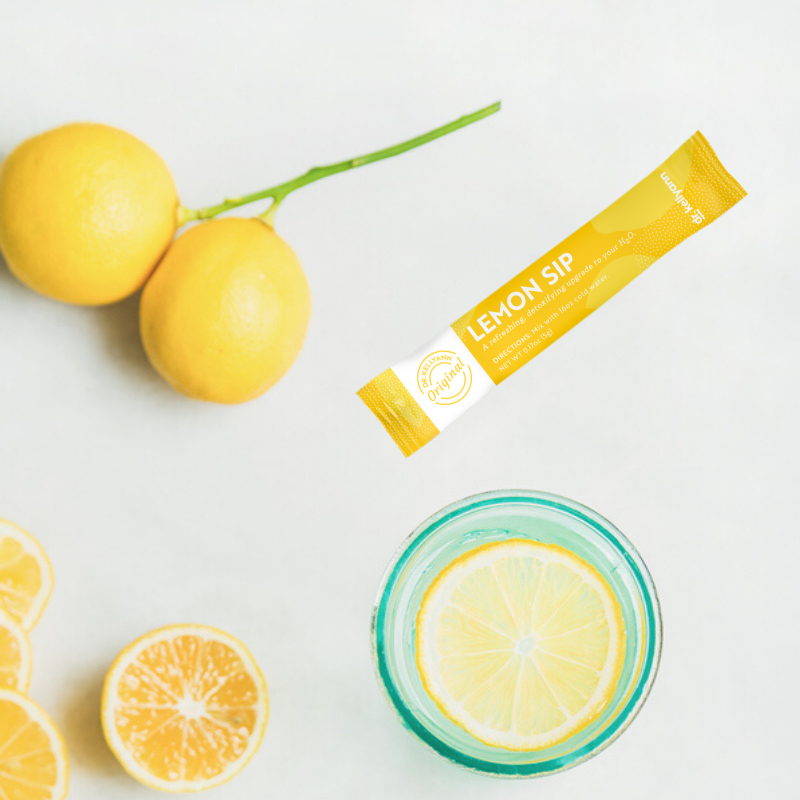 Lemon Sip
Each day starts with a refreshing glass of Lemon Sip to flush the toxins out and remove that sluggish feeling. You'll enjoy two more Lemon Sips throughout the day for continued hydration.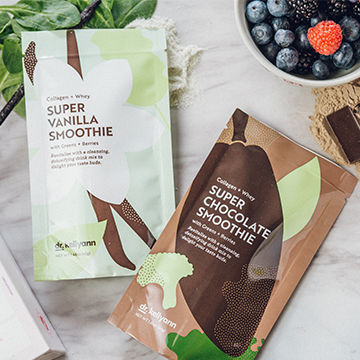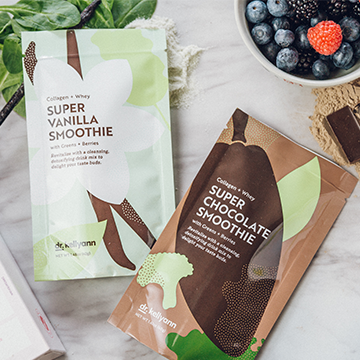 Super Vanilla & Super Chocolate Smoothie

For breakfast, revitalize your entire system with a mouthwatering Super Chocolate or Super Vanilla Smoothie. It's loaded with protein, collagen, greens, and berries for a whole-body pick-me-up.

Lemon Chicken Soup
Around dinnertime you'll enjoy a Lemon Chicken Soup. The micronutrients and vitamins in this soup will work throughout the night to restore you while helping your skin feel hydrated and fresh by morning.
Dr. Kellyann's Bone Broth
Sip on a savory bowl of low-calorie Bone Broth for lunch. It's packed with protein and nutrients to nourish your body, support gut health, rejuvenate skin cells, and satisfy hunger cravings.

5 Beautifying Benefits of My New Cleanse & Reset
 Look & Feel Younger
Cleanse & Reset is loaded with hundreds of the highest quality vitamins, minerals, nutrients plus a variety of proteins to supersaturate your body with the most intense nutrition you've ever experienced … and will have you looking and feeling great.
Better Gut Health
Cleanse & Reset helps your digestive system repair the damage done by toxins, to reduce bloating and gas. You'll also get the antioxidants and amino acids your body needs to repair an overworked gut, prevent heartburn, and nourish your gut lining to help with issues like leaky gut syndrome.
Firmer, Tighter Skin
Toxins will be flushed out, and those unwanted signs of aging will start to vanish. My kit is rich in protein-packed collagen, for a daily dose of healthy-fat nutrients that'll tighten and condition your skin and diminish lines and wrinkles

. I've also supercharged my Lemon Sips with a new melon concentrate called Dimpless™. This all-natural extract has been clinically shown to smooth away cellulite by shrinking fat cells hiding just below the skin. 
Weight Loss
The best way to slim down quickly is by cleansing. When you rid your body of toxins and inflammation while staying full-on delicious soups and smoothies, shedding excess weight becomes a breeze.

The new "lactose-free" whey protein isolate in my Super Chocolate and Super Vanilla Smoothies is a nutritional powerhouse that builds lean muscle and offers added support for slimming down.

Plus, the "healthy fat" from all of my collagen-rich meals melts away belly fat… because healthy fats actually burn fat.
Whole-Body Health
The health benefits of saturating yourself with the essential vitamins and nutrients in my cleanse go well beyond the beautifying results. You'll also feel full and satisfied, your system will flush out those unhealthy toxins, you'll feel more energetic during the day, and your body will be flushed with lean muscle-building protein.
Lustrous Hair & Nails
With a blend of antioxidants, minerals, and collagen, my protein-rich cleanse will coat your cells with the nutrients your body is craving. You'll find your nails turning stronger and smoother, follicles becoming more nourished, and hair growing thicker, stronger, and more radiant.