DR. KELLYANN'S 5-DAY RAPID RESET
So, you've heard about my Five-Day Rapid Reset on PBS and had to know more, right? I can't say I blame you. After my body called it quits — on a plane of all places — I knew I needed a rapid reset.
Have You Ignored The Signs Your Body Has Given You?
I had ignored the signs my body was giving me.
Exhaustion. Stubborn belly fat. Bloating. Dull, dry skin and dark circles that even concealer couldn't hide much longer. I was pushing myself too hard, and my body wasn't putting up with it anymore.
With a need for an immediate health overhaul, my mission was to create a cleanse that would restore the balance I had disrupted in my body. What I ended up with was a cleanse that began to revive my health and make a noticeable transformation on day one!
Ready To Reclaim Your Health?
With my rejuvenating five-day cleanse, you'll learn the exact steps I took to cleanse my body of the toxins that were slowing me down and holding me back. Dr. Kellyann's Cleanse and Reset releases on December 3rd, and is available for pre-order now!
Wondering If You Need A Cleanse?
It happens to the best of us... life gets in the way and we let your health take a back seat to our to-do list. Before you know it your vitality is drained, you've gained weight, and you're exhausted.

As a naturopathic physician and weight-loss specialist, I've seen this over and over and sadly experienced it first-hand. When my overloaded schedule had me crash and burn I knew I had to find a way back, and QUICK!

I ignored the signals my body was sending me for too long and I paid the price. I don't want that to happen to you. That's why I'm offering this FREE Health Assessment to help you determine your health and what to do regardless of where you're at.
Take All The Guess Work Out Of It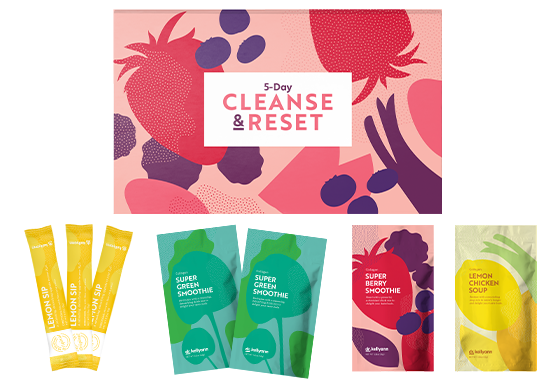 Scientifically designed, Dr. Kellyann's 5-Day Cleanse and Reset works to eliminate the toxins of everyday living and helps rebalance hormones and cravings by super saturating your body with the vitamins, minerals, and nutrients that it desperately needs.
Take the guess work out of the Cleanse and Reset with the 5-Day Cleanse & Rest Kit. This is an all-inclusive cleanse kit. No shopping, no prepping, and no cooking required!
The 5-Day Cleanse & Reset comes with 5 individual daily boxes for easy grab and go. Each day's box contains: 

3

 

Lemon Sips

2 Super Green Smoothies
1 Super Berry Smoothies
1 Lemon Chicken Soups
In just five days, I felt like me again. Restored. Re-energized. And not at the mercy of a harsh detox diet either. This gentle cleanse will load you up on all the nutrients your body needs while healing your gut, slimming your tummy, and firming your skin.
Rapid Reset is a five-day cleanse that will leave you feeling revived and refreshed. A cleanse that will make you feel rejuvenated and energized instead of hungry and depleted.
Whether you rushed over here because it sounded too good to be true or you could relate to the symptoms I had, this five-day rapid reset cleanse is for you! I will even walk you through the process with my new book, Cleanse and Reset. You'll find all the tools you need, including my favorite recipes for the soups, smoothies, and shakes you'll be enjoying. I've also included exactly how to tailor the cleanse to your Keto, Paleo, Vegetarian, or Vegan needs!
And if you're worried about finding the time to prepare your delicious meals, you're going to love the Rapid Reset Kit we've put together for you!
Say goodbye to your unhappy gut. Get rid of fine lines and dark circles. Rid your body of those energy-depleting toxins and reclaim your health today!
OTHER DR. KELLYANN PBS SPECIALS
The 10-Day Belly Slimdown on PBS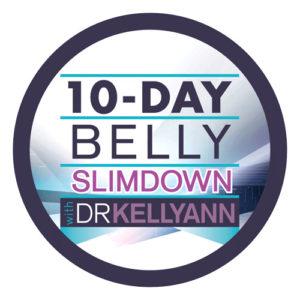 I'm going to help you discover how you can burn that belly fat so FAST with my 10-Day Belly Slimdown 4-phase system. 
And my promise to you—NO HUNGER ALLOWED.
Once you unlock the secrets to Slim-gestion™ Foods, your Slim Window, Broth Loading and Broth Burning, you'll get the results you've always imagined...
Slim Your Belly… Stop Your Cravings… And Heal Your Gut…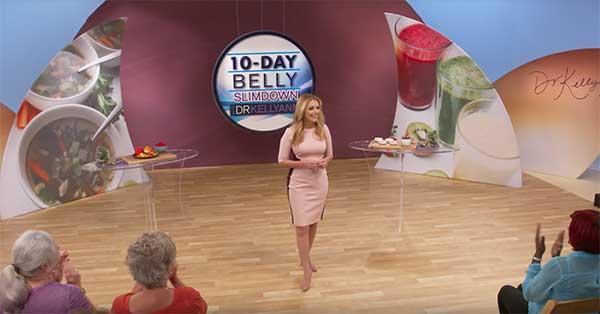 You watched me teach you about how to blast away belly fat and heal your gut from the inside out…
And now it's time to get the guide that's turning the weight-loss industry upside down.
With my new book, The 10-Day Belly Slimdown, you'll have everything you need in your hands to say goodbye to belly fat for good.
I gave you my three big Power Plays for getting rid of belly fat, stopping your cravings, and even making your hair & skin look better and healthier…
You can truly change your life in just 10 days.
Are you ready?
Grab your copy of my 10-Day Belly Slimdown today!